What to expect from the course.
After C.P implementing the decent maneuvers you where taught at flight school can seem a daunting task, but its a aspect of paragliding that every XC pilot must have in the tool bag in case they find themselves in lift that is too strong.
On the Decent skills course our aim is to make you feel at home with these maneuvers, and able to deploy them as and when you need them.
Each pilot will get a minimum of 1 run on the tandem with duel controls as a passenger, where you will be talked through the maneuvers and assisted in performing them.
You will then get a two runs a day where you will be talked through the maneuvers on radio.
Here is a footage from last years course of a client doing his first spiral dives and wingovers.
Launch sites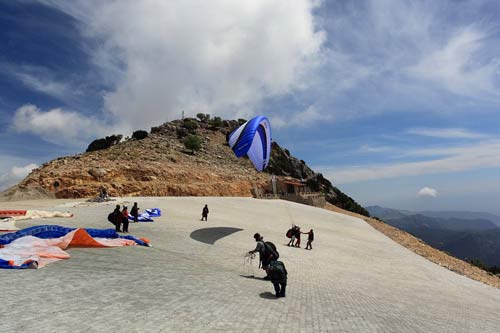 They are all very well maintained and easy to access from the uplift vehicle. Launches are massive and mainly paved apart from the 1960m launch which is un-groomed.
Landing areas
Landings are made on the beach or on the plaza. The area is massive and at this time of year you won't be struggling to find a sunbather free spot to make your approach.
The surrounding area
There is lots to see and do in the area as it is a tourist hot spot. But at this time of year the resort is winding down and everything is much more relaxed. Last year we took a trip to Fethiye to visit the fish market, and other traditional Turkish attractions.
What's the flying like?
At this time of year the sun is starting to mellow and the intense heat of the summer is cooling. So as you take off there are generally thermals coming up from the cliff which can be worked and if you fall out of them you just push further forward and look for another, if you still find nothing then you can push out over the sea with 1000m plus height and you will be guided through maneuvers, which have already been identified and discussed at pre-flight brief.
The conditions will be very smooth and great for low airtime pilots looking to progress with their wing control and confidence.
Pilot experience
This trip is aimed at CP plus pilots looking to improve on their skill set. Therefore, pilots must be CP-rated and ideally have at least 10 hours flying post qualification.
The minimum competency level I expect from pilots joining is the following:
Take full responsibility for their pre-flight preparations
AIRLAW – understand fully the rules of right-of-way for paragliders
Take full responsibility for deciding whether or not conditions are suitable for them
Perform an unassisted forward launch in light conditions
Perform an unassisted reverse launch in brisk winds
Assess and understand the dangers of take-off and landing areas
Take full responsibility for all take-off, landing and in-flight decisions
Pilots may decide not to fly , due to conditions. You will not be forced to fly if you don't wish to. The flyable day usually goes on right until sunset.
Accommodation